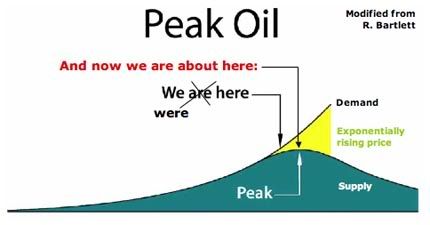 An interesting little story found on that most mainstream of news sources, NBC. One of the people who they interviewed, Kathy, is a regular poster at a forum I frequently lurk on, as, I believe, is ExRanger who sometimes blogs here (the site is a great source of news links, by the way)
LATOC, or Life After The Oil Crash.
If "peak oil" is a new concept to anyone, I suggest reading a lot there, at
Peak Oil: Life After the Oil Crash
, at
The Oil Drum
and
From The Wilderness,
just for starters.
"Families brace for financial fallout ~ In these tough times, some families are stocking up in case of a financial disaster. NBC's Peter Alexander reports."
http://today.msnbc.msn.com/id/26184891/vp/32026641#32026641
The obligatory psychiatrist at the end of the segment really hasn't a clue:
"people revert to behaviors designed to ensure their security".
I want to see him after a Hurricane Katrina blows through his town. I money-back guarantee you he'll be mooching off his doomer neighbors who had the foresight to behave in such a way that they assured their security.
~~~